Modules

SugarCRM
Synolia, SugarCRM's historical and main partner in France since 2004, contributes to the enrichment of the solution by developing complementary modules.
As an active member of the SugarCRM community, Synolia makes its modules available for free or for a fee. Find below the modules developed by Synolia for SugarCRM and bring new features to your users.
Boost your CRM with Synolia's exclusive modules!
Customers equipped by Synolia can benefit from these modules at privileged conditions.
AddressHelper, the optimized use of your addresses

With Address Helper, you can qualify and use your customers' addresses with certainty! Automatic data entry, data suggestion, layout uniformization, verified information: there are some of the expectations that our module – based on the LocationIQ library – meets, allowing you to have a high-quality address database. No more errors or long hours spent checking and uniformizing information!
DataViz for Sugar, the analytical power of Qlik Sense within SugarCRM
Do you want to benefit from Qlik's features directly in your CRM? This is now made possible thanks to DataViz for Sugar. You can access it directly in Sugar and benefit from Qlik's analysis and data visualization options without changing tools. A real time saver!
Event Manager for Sugar, your event management optimized!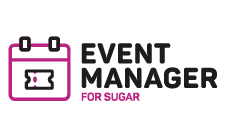 With Event Manager for Sugar, your event management and follow-ups take on a whole new dimension! Thanks to it, management is optimized for greater efficiency and a better customer relationship.
SynoFieldmask, shape your data!
Fieldmask will be your greatest ally in formatting your SugarCRM data. This module improves the reliability of your data and saves time for your whole team by allowing you to use input templates to your information fields (zip code, phone number, etc.).
HubSpot for Sugar® Integration to optimize the synchronisation of your contacts

With HubSpot for Sugar®, you can automate the update and bi-directional synchronization of your data (contacts, accounts, interactions, etc.) between SugarCRM and HubSpot with guaranteed reliability and efficiency!
ShapeMySugar, the customization that boosts your CRM
ShapeMySugar is the module you need to convince your employees to use your CRM. Thanks to this module, you are able to customize many elements of your application so that your team can make it their own and identify your CRM as a new coworker. You will be surprised at the improvement of the user experience!
SMS for Sugar, chat with your customers by SMS!
With SMS for Sugar, get closer to your customers by sending them bulk messages or individual SMS, using the Twilio service! This is your opportunity of building a unique relationship with them and enhancing your customer experience.
User Satisfaction, satisfaction at every level

Are you wondering if your employees are satisfied with your CRM? User Satisfaction gives you the answer! This module allows you to collect feedback from your teams regarding the use of your tool and thus, to adapt it according to their feedback. It's up to you!
Improve the quality of your data with our dedicated connectors
Sugar and Synolia have developed and packaged specific connectors with several complementary partners to offer you concrete solutions. By integrating one of these connectors, you can benefit from a CRM application with quality data (complete and up-to-date) and thus carry out ever more effective marketing and sales operations.
Contact our team